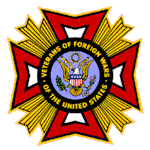 Post #9095 District 13
The W. Carl Reed Post is located at:
1121 Gamble Road, Little Rock, Arkansas 72211
Mailing Address: P.O. Box 4284 Little Rock, Arkansas 72214-4284
(501) 225-9849 Canteen. (501) 224-8037 Office. (501) 224-8037 FAX.
---
VFW Community Activities The VFW's Community Service program is defined as any activity or program sponsored or cosponsored by a VFW Post and/or its Ladies Auxiliary, which serves to benefit the city, town, neighborhood, other organizations, institutions, or individual Not affiliated with the Veterans of Foreign Wars or its Auxiliary.

List of Post Community Activities.
Youth Essay in area Jr. High Schools
Annual Thanksgiving Dinner for So. West Nursing home residents.
We transport them to the Post, to have Thanksgiving Dinner.
Christmas Baskets of food passed out to the needy.
Voice of Democracy Contest in area High Schools.
Monthly visit's to South west Nursing Home.
Yard work and maintenance on elderly homes.
Annual Easter Egg Hunt & Loyalty Day.
You are Visitor Number

For More Information E-Mail Ron Helton here.
---