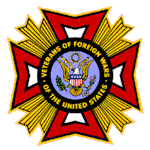 Post #9095 District 13
The W. Carl Reed Post is located at:
1121 Gamble Road, Little Rock, Arkansas 72211
Mailing Address: P.O. Box 4284 Little Rock, Arkansas 72214-4284
(501) 225-9849 Canteen. (501) 224-8037 Office. (501) 224-8037 FAX.
---
The Veterans of Foreign Wars of the United States was the first veterans, organization to promote a nationally organized campaign for the annual distribution of poppies assembled by disabled and needy veterans. The poppy movement was inspired by the poem "In Flanders Fields" written by Colonel John McCrae of the Canadian forces before the United States entered World War 1. Selling replicas of the original Flander's poppy originated in some of the allied countries immediately after the Armistice.

It was during the 1923 campaign that the VFW evolved the idea, which resulted in the VFW Buddy Poppy fashioned by disabled and needy veterans who were paid for their work as a practical means of providing assistance for these comrades.

This plan was formally presented for adoption to the encampment of theVFW at Norfolk, Virginia. Immediately thereafter the VFW Buddy Poppy factory was established by disabled veterans. In February, 1924, the VFW registered the name "Buddy Poppy" with the United States Patent Office, and a certificate was issued on May 20,1924, granting the VFW all trademark rights in the of "Buddy" under the classification of artificial flowers.

Today, VFW Buddy Poppies are assembled by disabled, needy and aging veterans in VA Hospitals and domiciliaries across the country. The majority of the proceeds derived from each sale conducted by VFW Posts and Ladies Auxiliaries is retained locally to provide for veteran services and welfare. The minimal assessment to the VFW units provides compensation to the veterans who assembled the poppies, provides financial assistance in maintaining state and national veterans' rehabilitation and service programs, and partially supports the VFW National Home for orphans and widows of our nation's veterans.



You are Visitor Number

For More Information E-Mail Ron Helton here.

---